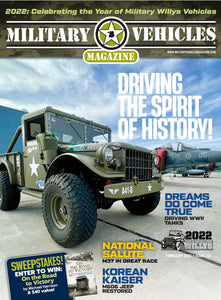 2022 Digital Issue Military Vehicles No. 221 - February
Regular price
$3.99
$0.00
Unit price
per
Established in 1987, Military Vehicles Magazine is dedicated to the preservation, restoration, study, and use of historic military vehicles. Spanning interests from military jeeps to amphibious vehicles, or tracked armor to heavy trucks, Military Vehicles is your best source for in-depth technical articles, vehicle profiles, product and hobby news, and current values.
In this issue…
- Dreams Do Come True (Driving a WWII tank)
- Tilly Was a Real Trooper!
- On Display: Green Machines (Midwest Dream Car Collection)
- M37 Competes in Great Race
- MV101: Installing Combat Rims
- Civilian Use of Surplus Trucks
- The AEC Matador
- M606: A Jeep Escort
- When FC Jeeps Went to Service
---